We like PowerPoint, but sometimes we like to use other presentation tools as well. In these days there are several presentation software out there, and sometimes it may be hard to choose the right one. We wanted to help you with your decision making, so we listed some tools we think are the best free presentation software. Most of these offer also paid features but you can use all of them for free.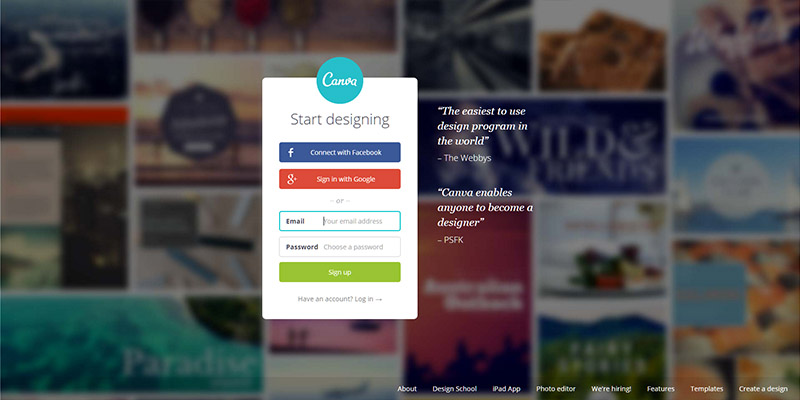 Canva helps you to design graphics for several purposes such as for presentations and social media. With Canva you can start from scratch or use one of it's templates. Canva also offers images, photo filters, fonts and icons and shapes.
Canva's builder is very easy to use and you can export your designs in .jpg, .png or .pdf format. Sharing your designs is also possible and easy. Just make design public and share the link to your design. Very easy. The donside with Canva is that you can export only static images, which means you cannot edit or animate t
Singing up to Canva is free, and there is plenty of free stuff. If you like to have more options, with a small fee you can buy more templates, images, fonts, icons and shapes. You can also download your own photos and use them.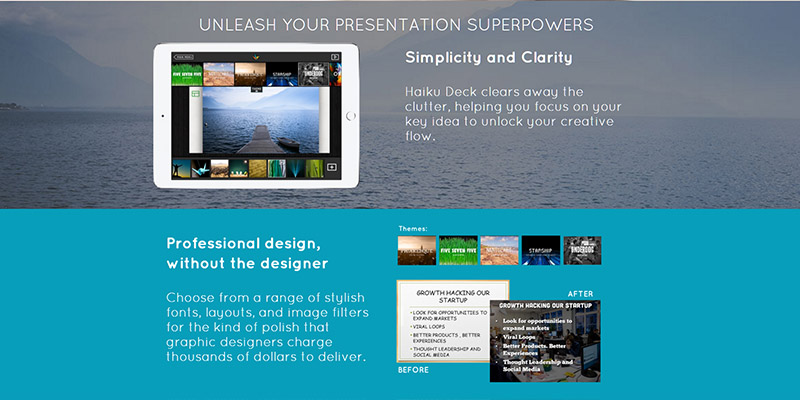 Most of presentation softwares try to make designing great presentations as easy as possible. Haiku Deck, on the contrary, tries to make designing bad presentations as hard as possible by creating certain limitations what comes to layouts, font selections etc. Their underlying idea is to take away some liberties from the user and to offer premeditated and consistent design themes in return.
With Haiku Deck you can create great presentations with ease. If you don't have much time or you don't have the skills to start from scratch, Haiku Deck is definitely for you!
You can use Haiku Deck for free, but then all your presentations are public for everybody to see. If you like to have some privacy, you need to buy one of Haiku Decks monthly plans.
Presentations you create on Haiku Deck are saved to the web, so you can share them easily through email or social media or you can embed them to your webpage. There is also possibility to export the Haiku Decks to PowerPoint or Keynote.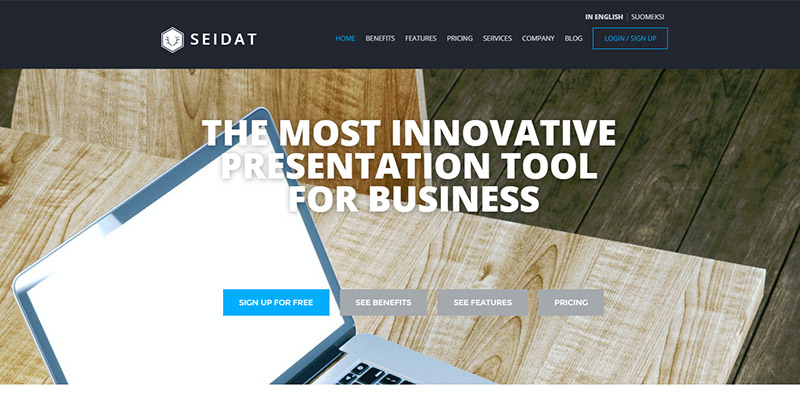 Seidat is a presentation software that allows you to create and share your presentations online. It has taken the slide-based approach from PowerPoint and expanded it to interactive uses with a navigable slidemap. You can easily embed videos, websites and other interactive content to your presentation. With Seidat's slidemap based navigation you can use presentations in different ways depending on the situation. You don´t need to proceed in chronological order.
You can use Seidat for free, but if you want more features such as analytics and permissions there are also Team and Enterprise level subscriptions.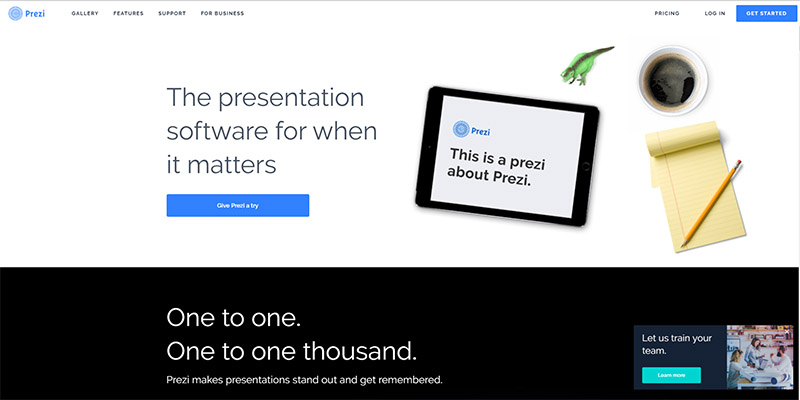 Prezi has been the talk of the town for a while. With Prezi's infinite canvas you can create presentations that are different from typical slide-to-slide presentation. It is not for everybody or for every situation, but if you want to make something different, Prezi just might be for you.
Prezi's prizing is very similar to Haiku Decks' – for free you can use public account, where all your presentations are for everybody to see. And if you want some privacy and more features, you need to subscribe to one of Prezis monthly plans.
Prezis are stored to cloud service so you can access them anywhere and they can be easily shared as well. Prezi also offers desktop apps for Windows and Mac, so you can work with your presentations even if you don't have access to the internet.
As the name suggests, Google Slides is presentation software powered by Google. If you are Google App user, this might be familiar to you, since it's sharing and editing options are the same as with every other Google App.
Creating presentations with Google Slides is very similar to PowerPoint, although Google Slide has much less features. Unlike many other presentation softwares listed here, with Google Slide you basically have to start from scratch. Google Slides does offer templates to work with, but the templates (in my opinion) are not that good. If you want to build your presentation using template, I recommend you choose some other presentation software.
Google Slides has it's cons, but it definitely has it's pros too. Definitely one of the best features in Google Slides is that everyone can edit same presentation together at the same time. Also sharing Google Slides presentations is very simple and you can choose who you give access to your presentation or is it available for everybody who gets the link. On top of these, Google Slides is completely free, all you need is free Google account and you can start creating presentation.
As Lea Pica told in one of our previous posts, Google Slides can be a handy tool for collaborative content creation.
Tools for impactful presentations
If you want to learn more about presentation tools, I recommend you to check these posts as well: