Now, when the year 2015 is close to its end, we wanted to stop for a while and look back. This year has been filled with amazing presentations and it is obvious that the presentation design industry keeps on growing!
Inspired by that we made few TOP 3 lists, that will give you the best content around the topic of presentations! Enjoy them during you holiday season!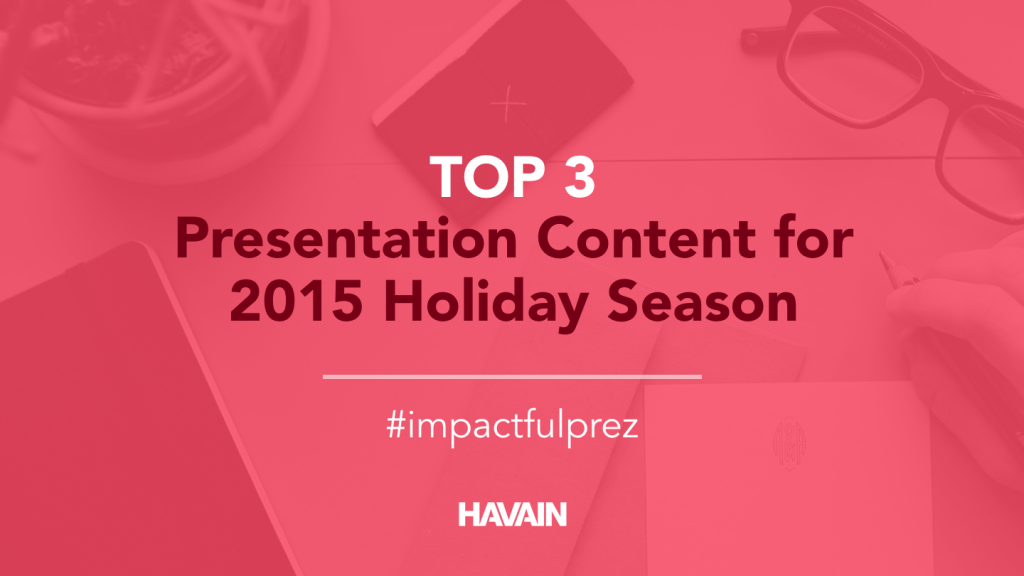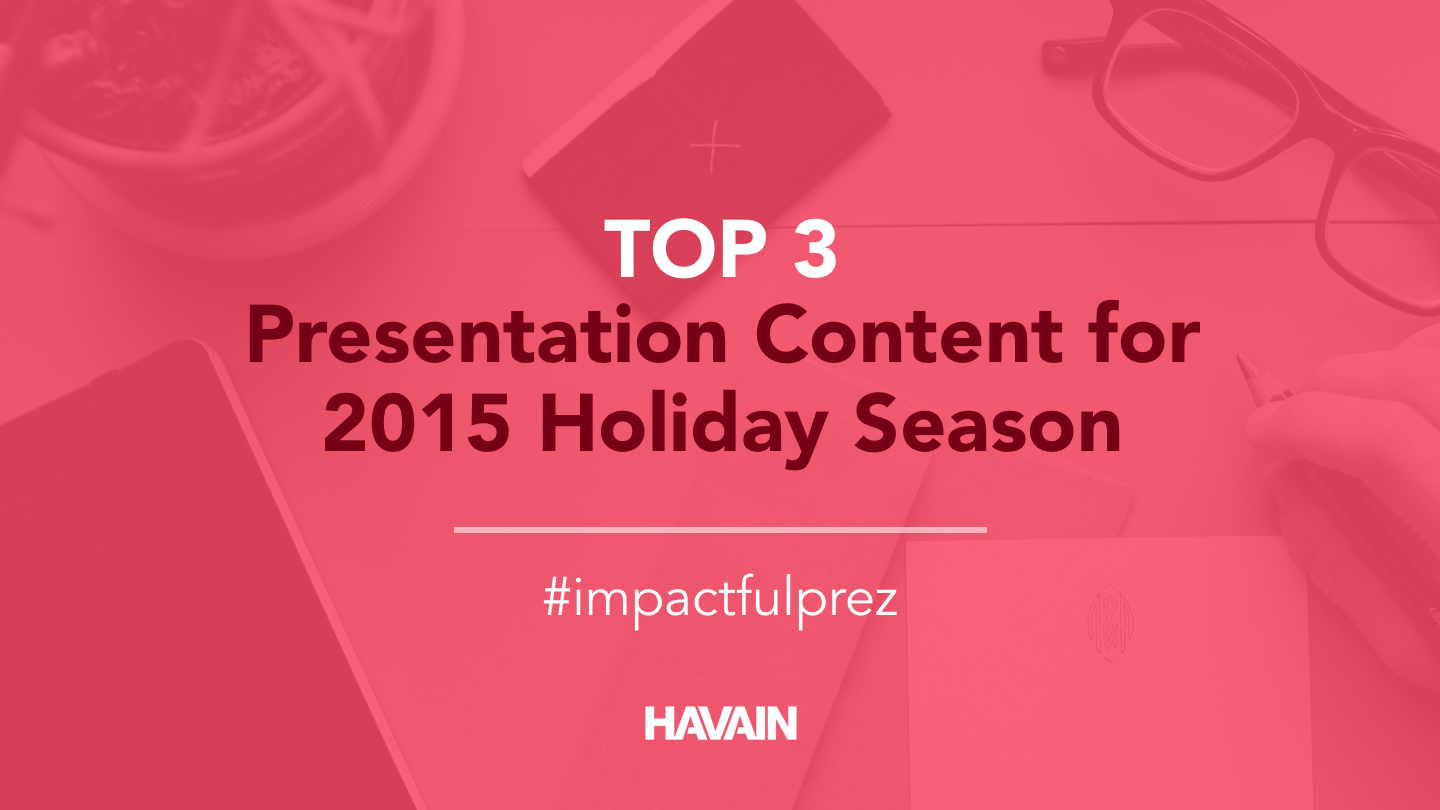 TOP 3 – Presentation Podcast Episodes
1. Rad Presenters Podcast – Michael Baldwin
Michael Baldwin, a long-time advertising industry professional and a guy who has passed "Steve Jobs' bozo filter", gives great and very actionable tips to effective presentations in this episode of the Rad Presenters podcast. His analogy between presentation slides and billboard advertisements is especially eye-opening.
2. Time to Shine Podcast – Discussion with Dananjaya Hettiarachi
Dananjya Hettiarachi is the Toastmasters world champion of public speaking from year 2014. In this discussion he shares one of the secrets that changed his style of presenting and hugely helped him in advancing as a speaker. More inspiring than that "tactical level" trick is his journey that shows how at the end of the day development as a speaker and development as a human being is intertwined.
3. Dinglecast – Episode about kickass presentations
Dinglecast hosts Simone Bocedi and Jukka Mäenpää interview Oscar Santolalla and Timo from Havain about the art of great presentations. The discussion was very pleasant and conversational and it also gives many very concrete tips to more effective presentations. Don´t forget to check out the shownotes, there are lot of links to good resources.
TOP 3 – Presentation Slideshares
1. 8 tips for an awesome PowerPoint Presentation
[slideshare id=30857665&doc=8tipsforslideshare-140205110030-phpapp01]
This Slideshare by Damon Nofar nicely summarizes the main points about professional presentation slide design. No wonder it has already gotten almost million views.
2. 9 ways to deliver an amazingly boring presentation
[slideshare id=52792910&doc=howtobeboring2-150915095516-lva1-app6892]
This Slideshare by our Nepalese colleagues at PresentationStuffs is a great checklist for the big nono´s of presentations.
3. The secrets of delivering impactful presentations
[slideshare id=55541692&doc=10tips-151126112617-lva1-app6892]
We managed to interview some very merited people about their secrets to delivering impactful presentations and summarized the answers in a Slideshare. Looks like it really resonated with people since we made it to the Slideshare frontpage with it and have gathered 10 000 views in one month only.
TOP 3 – Presentation tools
1. PowerPoint Morph & Designer
Morph and Designer are new great upcoming built-in tools in PowerPoint 2016. With Morph you can make a nice slide transition combined with movement animation without time-consuming building of transitions and step by step animations between two slides. Designer helps the layman user to design professional-looking layouts with just few clicks.
2. Canva.com
Canva is web-based tool which can be use for example to design and implement presentations and social media graphics. Canva offers thousands of beautiful layouts, millions of images, photo filters, icons, shapes and fonts. You can definetly use canva for free, but if you want greater choice of layouts, shapes, icons and images you need to pay few bucks.
3. Pichit.me
Pichit.me is photo library which combines talented photographers around the world and the people who are in need of photos for example for their presentation. Pichit.me can be used through their web service or you can download an Office App and get access to the library directly within PowerPoint.
Pichit.me offers two levels, Free -level and Premium -level, which costs 9,99$/month. Both levels gives you access to all photos, but if you want to use photos in your company's or your clients materials, you need the Premium subscription.
TOP 3 – Our most popular blog posts
1.Elon Musk's Tesla Powerwall Keynote Dissected: Why You Should Watch it Before Your Next Technical Presentation
Crafting a technical keynote presentation is not an easy job, but Elon Musk does it well! Musk's Tesla Powerwall Keynote is an outstanding example of a technical keynote, and that's why we wrote an article that presents a dissection of this talk, showing the key elements that made it successful, and why you should watch it before your next technical presentation.
2. How to make the most out of Slush – three strategies to an effective startup pitch
This is post is a guest post from Time to Shine podcast host Oscar Santolalla, a software engineer who has found his calling in public speaking and presentations.
In this article Oscar gave great tips how you can craft and deliver a great stratup pich. Article targeted to Slush, but you can use these advices in any startup pitch you will deliver!
3. 10 PowerPoint tips that will help you save time
PowerPoint is great and comprehensive presentation design tool, but it might be little bit overwhelming sometimes. We wanted to share our favorite tricks to everybody, so that you could enjoy using this tool as much as we do. We have gathered ten of our favorite and most useful tips to simple and easily memorable tips.
What is your TOP 3 for things that are related to presentations?