This is a guest post from Oscar Santolalla, a software engineer who has found his calling in public speaking and presentations. He hosts Time to Shine podcast that presents interviews with successful public speakers who share their experience and secrets with you in a weekly podcast.
If you are attending Slush 2015 in Helsinki, probably you are the founder of a startup, you work for one, or you want to make business with startups.
Slush is a high dose of opportunities packed in two days' event that can make a big impact on your business and yourself. Today you maybe facing problems and you want solutions such as:
how do you generate more attention for your product or company

how can you increase your sales

how do you raise capital from investors

how can you make people to understand the value of your product or service.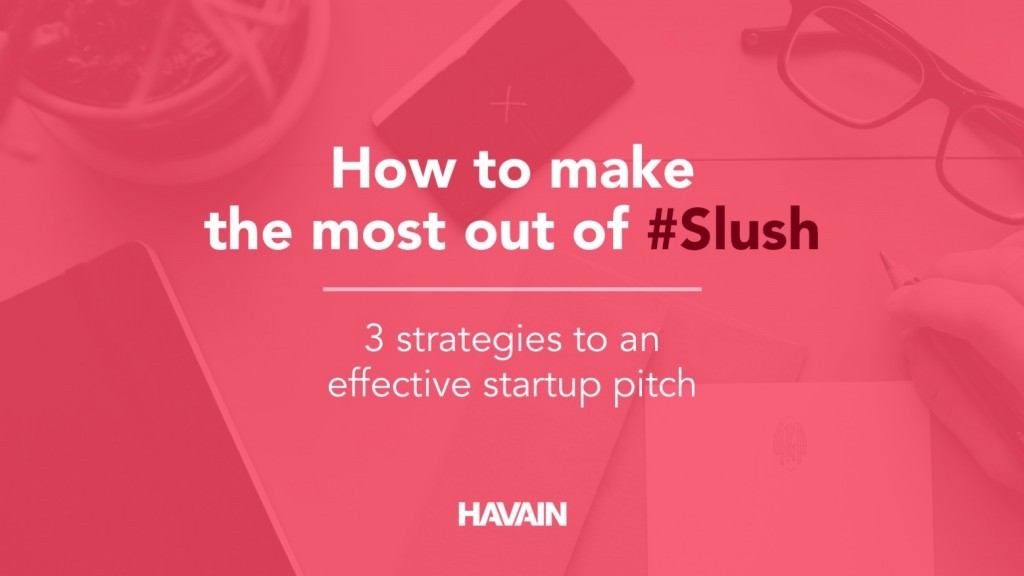 Communicating effectively about the mission and value of your product or service is crucial for making the most out of attending an event such as Slush.
A lot is determined even before you enter the conference hall, by your preparation.
I offer you three strategies to perfect your startup pitch and make the most of every euro you invested in attending Slush.
1. Introduce yourself
Introducing yourself? It might sound obvious and simple, but the vast majority of opportunities will occur in simple interactions, not in formal pre-arranged meetings. You will probably introduce yourself dozens of times in a single day. Then you'd better be prepared to stand out of the crowd.
One of the most interesting approaches on how to introduce yourself appeared this year 2015 in Sam Horn's book "Got Your Attention?: How to Create Intrigue and Connect with Anyone." Instead of using a traditional elevator speech (typically a monologue), she suggests us using a 3-steps "elevator intro" that starts a conversation.
Regardless the technique you use for introducing yourself and your product, do these three exercises beforehand:
Prepare a simple explanation that can help people from a different domain to relate to you and your company. Nelson Mandela said: "

People respond in accordance to how you relate to them.

" For instance, if you sell a FinTech web service, think of explaining it to someone who has worked for years only in games for consoles. Even if there is no business between you, she can become a good referral, but only if she can understand what you are talking about. Think of what would be the domain that differs the most from yours.

Prepare yourself to describe your typical customer with very concrete real-life words how your solution helps her in the biggest problems and pains. For example, last year Irofit told a story about this small business entrepreneur in Mumbai who had problems in taking card payments due to unreliable internet connections. You can relate way more easily to the pain and problem of a single clothes seller than just faceless "small business owners in developing countries".
Be ready to say "how can we help you", in case there is no obvious potential business for you.
Finally, practice your intro, practice with a colleague. It will sound more fluent and it will give you stronger confidence. If you want to go even further, work on your voice, as Roger Love suggests.
2. Will you pitch onstage? Use proven elements of presenting technical products
"If you had one shot, one opportunity to seize everything you ever wanted, one moment. Would you capture it or just let it slip?" -Eminem
Pitching on stage can be indeed your long-awaited opportunity. The first thing you have to remember is that presenting technical product is different from other types of presentations. Why? Because the big differentiator of your technical product is often not as obvious to your customers or investors as it is to you, you often have a lot of domain-specific terminology, more layers of abstraction, and all this makes it more complex to explain per se. That's why you have to prepare yourself differently.
The following are five elements that appear in outstanding presentations and talks about technical products and topics:
Simplify complex concepts by using analogies, metaphors
Simplify complex concepts by using stories
Always speak in concrete terms, never in abstract
Have a demo
Use multi-sensory elements i.e. try to activate as many senses as possible with your presentation to create an effective learning experience
Do you want an example? Elon Musk's Tesla Powerwall Keynote has four of them
| | |
| --- | --- |
| Metaphors | "Cellphones leapfrogged the landlines and there wasn't a need to put landlines in a lot of countries or in remote locations" That's how Musk showed that there will not be need of deploying electrical grid infrastructure in many places in the world. |
| Concrete terms | "The fact that is wall-mounted is vital, because it means you don't need a battery room, you don't have to have some room filled with nasty batteries. It means that a normal household can mount this on their garage" |
| Demo | The demo happens in a room that showed the energy source of the building at that moment. The camera zoom showed two power meters labeled "Grid" and "Battery". A closer zoom showed that the Grid meter was actually zero and that the event had been powered by batteries. |
| Multi-sensory | Excellent series of images in the slides, some of them really dramatic. A well-designed video used to present the main product: Tesla Powerwall |
3. Watch the best speakers and learn from them
Slush offers every year a selection of world-class speakers in a broad range of topics. Let's finally take a look at the most popular talk from Slush 2014: "R.I.P. Internet" by Mikko Hyppönen. Here are the top 3 strongest points.
Repetition
Mikko used very effectively a simple rhetoric device: repetition. He had a strong main point for his presentation and repeated five times the phrase "Sometimes it feels like we've built a monster". Be clear about the one thing you want your audience to carry away from your presentation and repeat it to drive through your main point.
Concrete
Lots of revelations presented in very concrete words, always describing a real story or showing a powerful visual element. E.g. how old the recently found SSL vulnerabilities really were, Hong Kong protests' fake app, cyber terrorist attacks. One of the best examples was the photo of how hackers turned security camera DVRs into bitcoin miners.
Persuasive tone

After presenting lots of revelations that concerned everybody in the audience, in the last 60 seconds he started to intentionally speak with "we" and "us", emphasizing that we all share the same good feelings but also the concerns about the Internet. Once the audience was on his side, he ended the talk with the call "

So please join me in keeping the Internet free and open for the future generations.

"

The key to achieving this is to think about the audience: what is in it for them and what do I want them to do or feel after my presentation.
Knowing how to introduce yourself, bringing proven elements that work in technical presentations, and watching the best speakers to gain inspiration These three strategies will help you to make the most out of attending Slush and other startup events. Takes these ideas to inspire your preparation, and make your next pitch your best ever!