It is tough to admit to yourself that you have been wrong all the time. As a professional presentation designer it has been tough to admit that almost everything that I thought about great sales presentations has changed.
The reason why I questioned my whole understanding about sales presentations is based on two reasons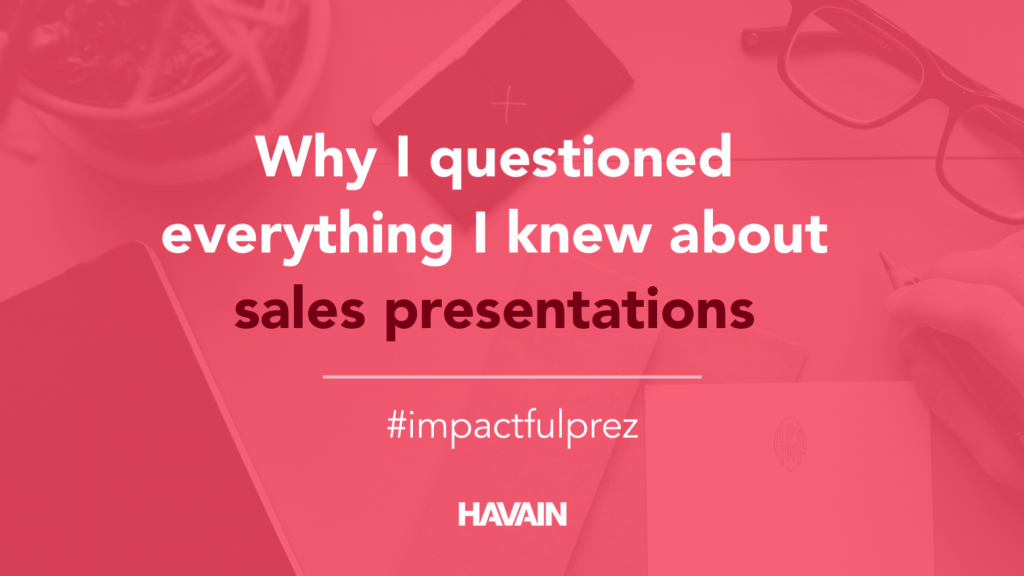 1. The big shift in B2B sales
This McKinsey article (written already in 2010!) lays out three trends in B2B sales for coming three to five years. All of them have become reality.
Customers want it all – ["…gone are the days when the same sales representative could offer all products to all buyers…Customers are pressuring their suppliers to bring the full depth of expertise to every sale."]
The end of the road warrior – ["…Customers are becoming much more comfortable getting the information they need from sales resources over the telephone or through Web conferences and video conferences.]
Making the most of data – [B2B sales teams report that the rapid adoption of these techniques (granular customer data and predictive analytics) has increased the volume and quality of sales leads and improved conversion rates]
In summary, the competition about getting any customer to listen to a B2B sales presentation is becoming increasingly difficult and a sophisticated sales organization must measure and analyze all of their actions.
Here´s some more recent statistics about business to business sales.
2. PowerPoint presentation gives no metrics
A PowerPoint presentation (or Keynote or Prezi presentations for that matter), no matter how well designed, provide no metrics to measure their actual effect on sales. The same concerns presentations that are given on a flipchart or just verbally.
Most sales messaging methods have provided very little or no quantitative methods to measure their results.
Yet, at the same time presentations are gaining in importance as a way to create interest and establish trust with customers who search for information online and in events.
How should you go about measuring your sales presentations
The answer is to enlarge your view of a sales presentation – it´s not just what happens when you have your prospect face to face with you. Today your sales presentation begins online and may continue for days, weeks and even months before a face to face meeting. The new metrics of sales presentations are
Views – how much is your presentation viewed online
Visitors – how much is your presentation creating traffic on your web page
Converted visitors – how much of the traffic is converted into contacts
Engagement – How much of the converted visitors interact with your communication
Meetings – how much of the converted visitors agree to have a meeting
The key questions a smart B2B-marketer asks himself before creating any sales presentation today are very different than which color or font you should use on your slides.
You should ask yourself:
Where does your prospect go to search for information? (views)
What valuable content could you provide in exchange for his contact information? (visitors and converted visitors)
How can you help your prospect in his buying process? (engagement)
When should you contact the prospect? When is he qualified enough? (meetings)
How can you measure the whole cycle from beginning to the end? Do you have a system?
This gives you a better idea of what is the role of your sales presentation in the overall sales cycle and it also gives your sales presentation the right metrics.
Good design still has a role in sales presentations. It is actually more important than ever because the competition is so tough online nowadays. However, all marketing activities should be measurable and actionable – sales presentations are no exception.