Few months back you could have thought that Microsoft has already given up on PowerPoint. Alternative presentation solutions such as Prezi, Haiku Deck and Flowvella were getting media attention and creating ripples in the ocean called PowerPoint.
With tools for development and distribution available for free or at a very low cost, the barrier for entry to the software market has become so low that virtually anyone can start developing and selling their better version of "the mousetrap". Even Microsoft itself had introduced its own web-based presentation and storytelling platform Sway.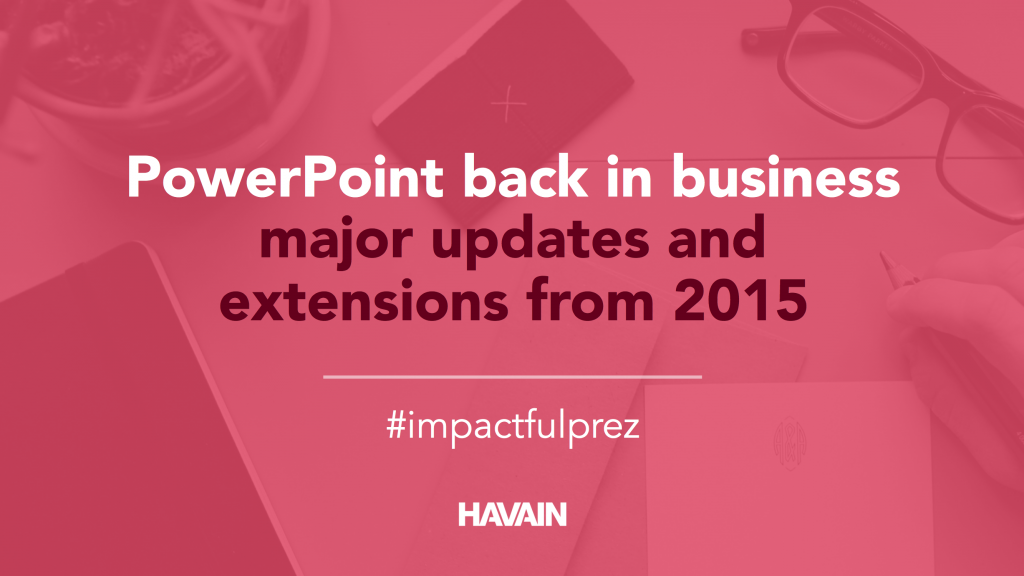 Fast forward to the end of 2015 and it is a whole different ball game again. With the introduction of Office 2016, it seems that Microsoft has finally waken up to match the competition it is getting from all fronts.
First of all they have given up on the ~4 year major update cycle and switched to a subscription based model where they constantly improve and update the software. Just like most of their web based competitors.
Secondly  Microsoft has opened their door for innovation around PowerPoint. There were both some very interesting PowerPoint updates (part of the core product) as well as extensions (extended functionality that user can opt-in) released during 2015.
Major PowerPoint updates and extensions from 2015
1. PowerPoint Designer and Morph (update)
With Designer and Morph, PowerPoint is fixing the weaknesses that its competitors such as Haiku Deck and Prezi were striking.
Designer helps the layman user to design professional-looking layouts with just few clicks (the strength of Haiku Deck). With Morph you can make a nice slide transition combined with movement animation without time-consuming building of transitions and step by step animations between two slides (the strength of Prezi).
You could think that these new features are also narrowing the playground for professional PowerPoint designers and yes, it forces us to think about more thoroughly about the value that we can provide on top of features such as Designer and Morph.
Fortunately, there is more to designing a presentation than just slides. Therefore there still remains work to be done further up the stream where the idea, argument and structure of the presentation is being created.
2. Social Share for PowerPoint (extension)
Social Share makes it is easy to share PowerPoint content to social media. When "death by PowerPoint" inducing text-heavy slides still bare the norm, you could easily ask whether this is a good thing or a bad thing. Well, it is actually no different from what Slideshare has already been doing for years – Slideshare can also be used both for doing good or doing bad. Social Share is just a matter of making things easier and quicker.
Combine Designer with Social Share and you have a powerful social media graphics tool in your hands.
3. Office Mix (extension)
Office mix helps in creating training videos directly from PowerPoint. In one PowerPoint toolbar you have everything you need for creating a video presentation with interactive content. Once again PowerPoint is integrating some functionality that previously would have required bunch of additional software on top of PowerPoint.
4. Pichit.me (extension)
With Office 2016 PowerPoint said goodbye for good to Clipart. The word of the day is high-resolution photography. With Pichit.me PowerPoint users can search high resolution photography directly from the application – no need to switch between browser and PowerPoint anymore. Pichit.me users on the other hand get a direct access to sell their photos to the millions of office users.
PowerPoint has been around for almost 30 years and it still has one big advantage over the others – it still is the industry standard (see below a poll result from a webinar with 450 users from different industries and professions)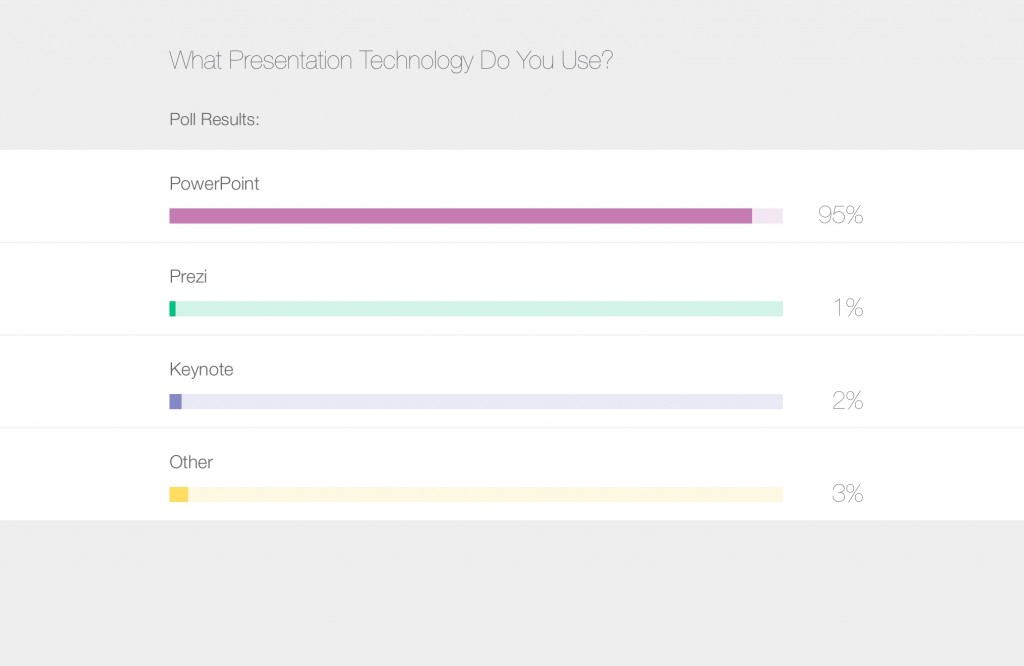 As long as companies continue to use Microsoft Office it will be very difficult to throw the king off its throne – see network effect.
This is not to say that there would not be room for specialized presentation apps in the future. I think that there still are niches where some other solution may perform better. Good thing is that Redmond has finally gotten the wake up call from its smaller competitors.