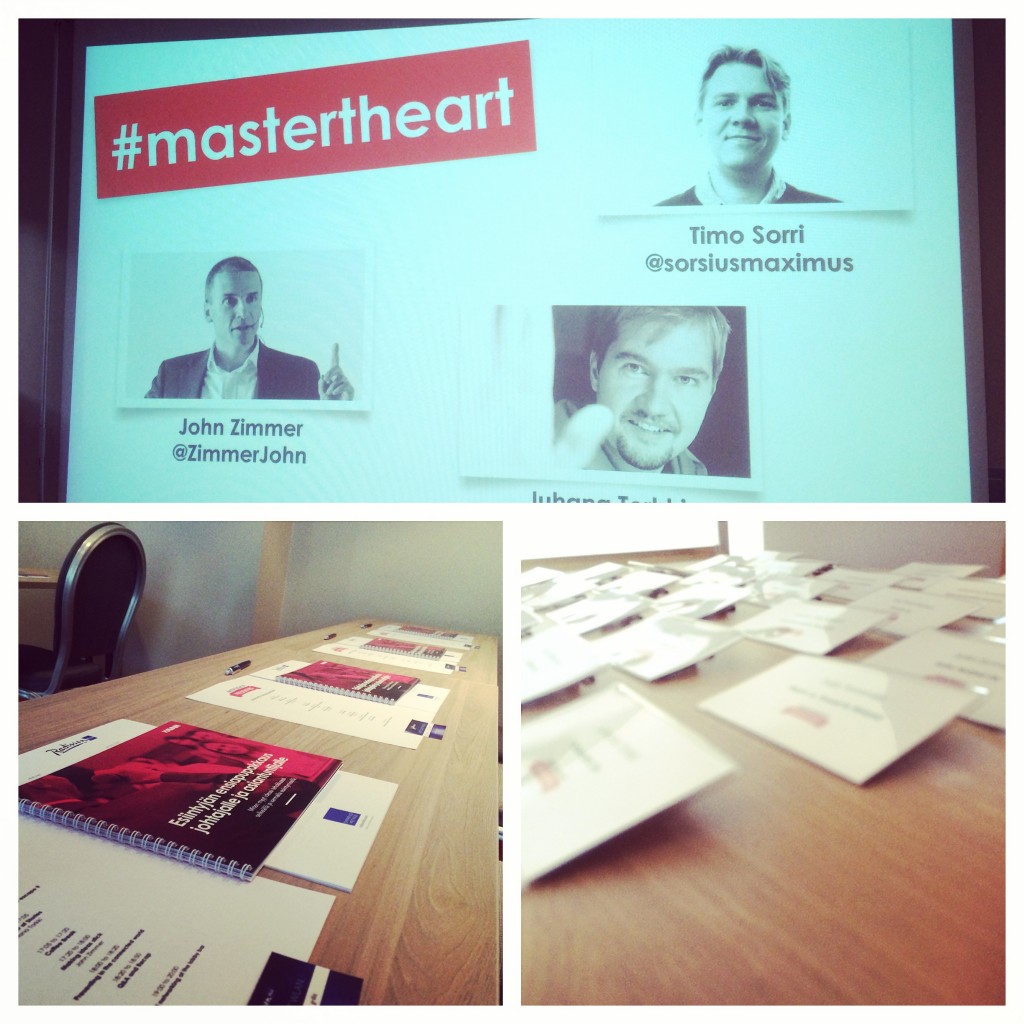 I cannot believe that four weeks has already passed since the first Master the Art of Presenting -seminar. It was really exciting thing for me as the organizer. I am pleased to discover that based on the feedback most of the participants were excited as well. Here is a summary of the feedback.
The next edition will be
on September 10th 2015 in Helsinki
Overall grade 4,6/5,0 (23/32 participants)
Quality of speakers: 4,8/5,0
Location: 4,7/5,0
Room: 4,0/5,0
Food & drinks: 4,6/5,0
Would recommend to others: 23/23
Recommendations for upcoming events – what would you like to see removed or added?
Maybe a little bit more information regarding group planning of the presentations and presenting as a group. How to divide the work without affecting the quality of the final presentation.
I think that your concept is just great. Same subject but different angles..
Bigger audience, you had too good presenters!!!
A little bit more tips about the interaction with the audience
More concrete tips
Presenting in a virtual event. What is different, when your audience doesn't see you, but only hear your voice and can see presentations etc.
The actual tool tips could be in some other format, a short session diveded from lunch or such.
Why would you recommend/not recommend it to others?
Even if you are experienced speaker, it is a good chance get new tips and tricks
Excellent speakers and very useful and concrete topics. I think this kind of seminar would get much more participants if marketed more. (That will be acted upon, for sure :))
It was really better than many similar I have participated during the years
The content was good and everything on the seminar: Place, speakers, content, atmosphere.
Presenting and selling your ideas powerfully is the most important thing in business. This seminar really gave motivation and concrete ideas how to do it better!
Best speakers ever!
Important topics
Good content. Presented in an interesting way. First training ever during which I did not fall asleep.
For the practical value
Good seminar for beginners, Maybe not fulfilling the needs of those who already have more experience. The name Mastering was a bit misleading to me cause I expected it to be a master course rather than a beginner's one. very good basic stuff but relied a bit too much to "traditional" presenting which, I believe, people are not so keen on hearing anymore…
The quality of speaks were absolutely awesome as were the speakers. The topics were interesting and the conversations and discussions during the breaks were inspiring!
Good practical advice presented in an entertaining form!
Great content! Material (handbook) much appreciated!
Excellent speakers, lot of important information about presenting
I just found it to be very useful.
I think this seminar would be very useful for people in different positions, you always need to communicate and it helps if you do it well.
Interesting content and useful concrete tips that I'm able to adopt right away as a part of my job. Excellent speakers!
Value for the participants – what concrete actions will the participant take as a result of this event?
I will restructure my seminar presentation
I have already started – stories to be included in sales pitches, better slides and better planning!
I will prepare a bit better next time.
Based on the topics of the seminar, we've already listed 12 concrete things that we can adopt in order to make better presentations.
I changed the way to do PPs on the very next day 🙂 I also will start telling more stories.
Include more stories in presentations. Always summarize My topic in one sentence.
Notes page, What is my key sentence
I will plan my preparation time better before the presentation. I will take the checklist in use. I now know how to start and close the presentations better.
Create a presentation creation process for our company from my notes. Find ways to add more stories and human touch to company and portfolio presentations. Hopefully clear many slides from official slidesets, and add stories to speaker notes
I try to remember and use all nice tips for good presentations when I do mine
I have started to use different techniques… adding and removing bits and pieces on my presentation.. and I have created a game around it! Nowadays I like to play different roles in different situations.. Just to be able to find the methods that suits me the best.
Revising Sales Presentation material for Sales
Tweets #mastertheart
Eagerly waiting for tomorrow and the public speaking & presentation seminar! I hope I'll learn a lot. @SorsiusMaximus

— Jesse Enqvist (@JesseEnqvist) October 29, 2014
@Seidat_official tiimi valmiina torstain #mastertheart tapahtumaan! @SorsiusMaximus

— Seidat (@SeidatApp) October 29, 2014
"Your speech can ripple out thoughts of the audience but first you need to throw the stone" @ZimmerJohn #mastertheart pic.twitter.com/mUZjZw9wCo

— Jesse Enqvist (@JesseEnqvist) October 30, 2014
Ensitapaamiseni Suomen parhaan myyntimiehen kanssa. Myy enemmän kuin F-Securen myyjät yhteensä @mikko #mastertheart pic.twitter.com/RAqvgeezCn

— Jani Virtanen (@JaniJohannes) October 30, 2014
● They are called 'Bullet Points'
● because Death by Powerpoint#mastertheart

— @mikko (@mikko) October 30, 2014
@mikko @SorsiusMaximus You know the solution. #seidat

— Seidat (@SeidatApp) October 30, 2014
One of the best speaker training events ever! #mastertheart #sorsimusmaximus

— Jussi Karppinen (@KasvuJussi) October 30, 2014
Amazing day of presentations about presentations! Thx Havain.fi & Timo +John, Juhana& co @SorsiusMaximus @johnzimmer pic.twitter.com/H6PHoYA26F

— Jani Virtanen (@JaniJohannes) October 30, 2014
Thank you @SorsiusMaximus and @ZimmerJohn for an amazing seminar! I learned a lot! #mastertheart

— Jesse Enqvist (@JesseEnqvist) October 31, 2014
@SorsiusMaximus Yksi parhaista, koskaan. Koska uusinta? Lipun hintaa reippaasti vaan ylös! #mastertheart

— Jani Virtanen (@JaniJohannes) October 31, 2014
@SorsiusMaximus @KsRiikonen Kiitos!

— @mikko (@mikko) October 31, 2014
Still feeling inspired by last week's #mastertheart seminar @SorsiusMaximus #sushi #heräteostos #thinkingfastandslow pic.twitter.com/BvOYwMQ1Bx

— Jesse Enqvist (@JesseEnqvist) November 7, 2014
@SorsiusMaximus Kiitos viimeisestä! Olen ottanut vinkkejä heti käyttöön.

— Salla Syrman (@SallaSy) November 13, 2014