Lokakuun 30. päivän Master the Art of Presenting -seminaarin puhuja John Zimmer kertoo tässä kirjoituksessaan viisi vinkkiä hyvien esitysten valmisteluun ja esiintymiseen.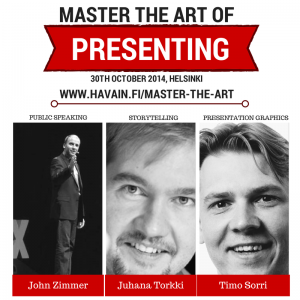 John Zimmer: Five Public Speaking Tips
During our "Master the Art of Presenting" -seminar, we will cover several important aspects of a good presentation. In the meantime, here are my five quick tips for you.
1 – Be ready to put in the time and effort
Giving a good presentation—a truly good presentation—takes time and effort. You must understand the material thoroughly; you must understand how it relates to your audience; you must understand what is most important and why. And then you have to design the presentation—with or without slides—so that it hangs together and conveys the message with impact.
2 – Don´t try to do too much
Too many presentations become bogged down when speakers try to do too much. You have a limited amount of time and your audience has a limited amount of attention. Choose your key points carefully and ruthlessly cut out everything else. If the subject matter is vast and there is more for your audience to know, prepare a detailed handout or direct people to where they can go for more information. War and Peace makes for a good novel but a lousy presentation.
3 – Exercise your thinking
Technology is great but it is not the most important thing. Far more important is being able to think clearly, strategically, creatively. Whatever your field, expand your horizons. Read widely and extensively. Read the classics, read modern fiction, read non-fiction, read industry periodicals that are not related to your industry. You will become a better thinker and you will be more well rounded. And that can only help when it comes to communicating ideas to others.
4 – Real artists don´t copy, they steal
Good speakers never try to copy other speakers. Good speakers know that they can only be themselves. However, good speakers are willing to try things that they have learned from another speaker, or read in a book, or learned in a course on public speaking. Nobody knows everything and we should be open to learning from others. But we should never try to be like others.
5 – Hold yourself to a high standard
Many presentations are still, unfortunately, mediocre or worse. You might even be able to get away with a mediocre presentation yourself. Don't. Hold yourself to a higher standard; your audience deserves it and the benefits that will come your way—personal and professional—will be well worth the effort.
About the author:
John has over 20 years of public speaking and presentation experience in a variety of business and legal forums on three continents. He is a guest lecturer on public speaking and presentation skills for MBA and Executive MBA Programmes across Europe, and is regularly invited to speak at corporate and other events.
John is the co-creator of Rhetoric – The Public Speaking Game™. He writes a popular blog about public speaking – mannerofspeaking.org – that is followed by readers around the world. John is a seven-time European champion of Toastmasters public speaking contests.